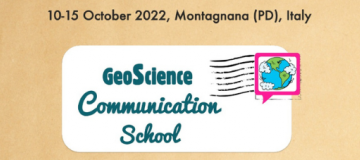 (Geo)Science Communication School: the fifth edition will be held this October in Montagnana (PD)
Dal 09.06.2022 al 16.10.2022
Over the past decades communication and outreach has become a fundamental concern of state-of-the-art research communities.
The relationship between science and society has begun to change radically and communication has become a necessity: the aim is not only to effectively share results with a public of experts and to better connect with the media and policymakers, but also to involve citizens more actively, making them aware of all those issues that have an impact on daily life and to convey the value of a scientific way of thinking.
Furthermore it is important to improve how scientists share results with the scientific community, in order to enhance the quality of the research and to facilitate collaborations: it is necessary to learn how to make posters effective, how to communicate aims and methodologies in scientific papers and proposals, how to get projects funded.
The Science Communication School it is an opportunity to learn how to move in this rapidly increasing area skillfully, through an interactive approach where lectures are combined with practical activities and lab sessions.
The fifth edition of the school, that has been funded by the Università degli Studi di Padova, will be held in October in Montagnana (PD) and it is organized in two blocks: Science Communication School from 10 to 13 October and GeoScience Communication School from 10 to 15 October.
Among the activities of the GeoScience there will be a focus on risk communication (with lessons and workshops managed by INGV staff) and on climate (with lessons managed by IPCC members). The participants will work also with school children and a role play will be played to understand how to communicate risk to stakeholders and citizens.
The draft program of the 2022 school is available here.
Here you can find the link for the registrations. Grants are available.