Our student Claudia Fabiola Benvegnù won the Italian Championship of Canoe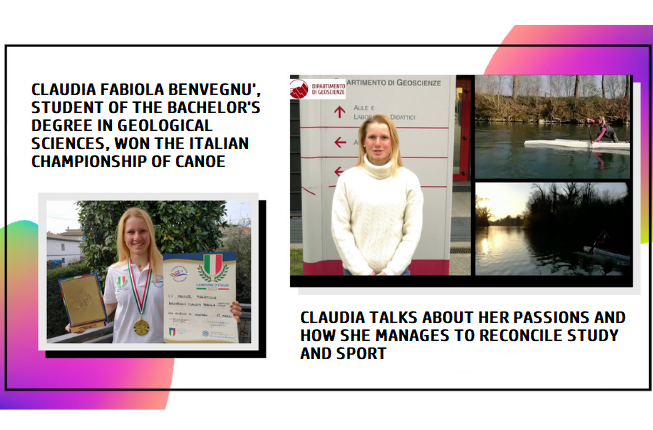 Claudia Fabiola Benvegnù, a student of the Bachelor's Degree in Geological Sciences, won the Italian Championship of Canoe, in the women's specialty of the marathon.
Claudia, who divides herself between speed and long-distance races, thus inaugurated the 2022 competitive season, obtaining an important success during the opening day of the Italian Marathon Championship, which took place on 12 March in San Giorgio di Nogaro (UD).
Last December 13 the athlete of Canottieri Padova, who won also the gold medal in the C1 500 and C1 200 class sprint canoe at the National University championships of the discipline which took place in October, was awarded the bronze medal for Sporting during the ceremony of CONI, at the headquarters of the Fornace Carotta, in Padua.
In addition to her sports career, Claudia has been continuing her studies with excellent results, managing not only to keep up with the exams but also to pass them with flying colors.
"It is difficult to reconcile canoeing with studying and have excellent results on both sides. However, the key is always trying to set goals and deadlines and always trying to keep them. The organization is essential, also in relation to the deadlines, therefore in my case the dates of the exams and the calendar of the competitions". 
"Canoe is a sport that requires a lot of sacrifices and this is why in Italy few people know and practice it: kayaking is much more popular here", Claudia Benvegnù underlined.
But why did she choose to enroll in the Bachelor's Degree in Geological Sciences? "I wanted a university course that would allow me to study something concrete and what's better than geology where you can study natural events and see how man is nothing in front of nature? I wanted to be able to understand the dynamics of the Earth, a planet on which in the end we are only guests and which will continue after us too", Claudia said.